For the first time in Team Vesco's history both world class Land Speed Streamliners were on the starting line at the same time
at USFRA's 2014 World of Speed Event.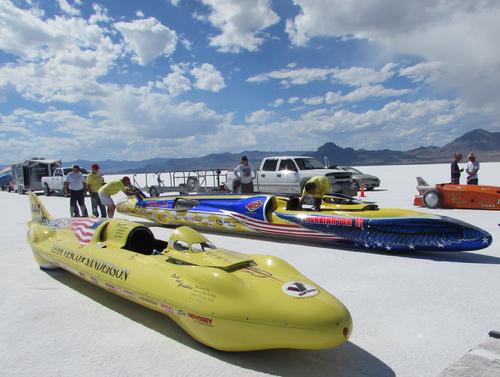 #444 "Little Giant" & 111 "Turbinator II"
In spite of weather challenges, broken gears and fuel delivery issues Team Vesco managed successful test runs with both famous streamliners at USFRA's World of Speed Event.
#444 "Little Giant" driver Bob Blakely, was able to make 3 successful runs over 300 mph achieving his unlimited license and posed to enter the prestigious 300 mph Chapter of the 200 MPH Club. The meet also provided TURBINATOR II's driver Dave Spangler with a "super acceleration" test in which he achieved a speed of 250+ mph before turning out at the 2 mile. Look for both cars to complete their goals at SCTA-BNI's rescheduled Speed Week @ World Finals.
Team Vesco wishes to salute crew member Glen Barrett for an outstanding job announcing times at World of Speed. It was so good to hear "The Voice of Bonneville" back on the radio!
Thank you USFRA Officials and Volunteers for a productive & safe event!
Team Vesco 2014 World of Speed Crew
Team Vesco will return to Bonneville with #111 TURBINATOR II and #444 Little Giant for SCTA-BNI's Speed Week @ World Finals Sept. 27 - Oct. 3, 2014
.
TURBINATOR II
promises to set down some serious numbers running a T-55 L712F Lycoming turbine engine. The record in this class is Don Vesco's 1999 speed of 427.832 mph. This speed will put us in the hunt for the Hot Rod Magazine's Top Speed trophy. To this date, Team Vesco not only has the highest speed listed on the trophy (459 mph, 2001) but is the only name to appear on the trophy in both the automotive and motorcycle categories (333 mph, 1978). Dave Spangler will once again be our driver for TURBINATOR II. Go Dave!

Vesco's #444 Little Giant will also be going after some hefty records at World Finals. First up will be our newest team member, Bob Blakely. He will be piloting a Keith Dorton Automotive Specialists built 304 ci sbc in the D/Gas Streamliner class and running on Rhonnie Vesco's 310 mph record. Mid-meet Team Vesco will swap engines and run a Al Sanderson built 434 ci sbc to chase the B/ Fuel Streamliner, (J. Fueling) record of 344.114 mph. Both attempts will use VP Racing gasoline while running in the Fuel class. Good luck Bob!

| | |
| --- | --- |
| Dave Spangler | Bob Blakely |
Take a Ride in TURBINATOR II