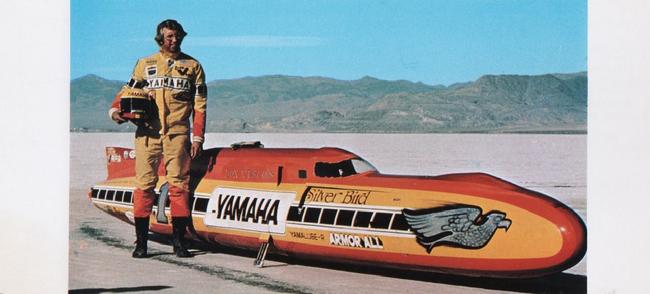 1975 Yamaha Silver Bird
Limited quantity - Silver Bird Motorcycle Streamliner postcards with Don Vesco. In 1975 Don Vesco and his Silver Bird streaked across the Bonneville Salt Flats to become the World's Fastest Motorcycle setting an AMA record at 303.812 mph! Postcards measure 9"x4". Cards are $5 - free shipping.
| | |
| --- | --- |
| Turbinator Poster | In 1997 "The Turbinator" ran an impressive 438.897 mph on the Bonneville Salt Flats earning the title of the "World's Fastest Wheel Driven Vehicle" (a title which the Turbinator still holds at 458 mph 2001.) Each 22"x 16 1/2" poster features the car, its famous driver, Don Vesco and his brother Rick, car designer and builder. There is a limited quantity of these posters in our attic. Get yours now! |
Late 1960s Don Vesco on his 500 cc BSA takes first place against all the 650cc machines at Carlsbad Raceway poster. Very limited quantity.